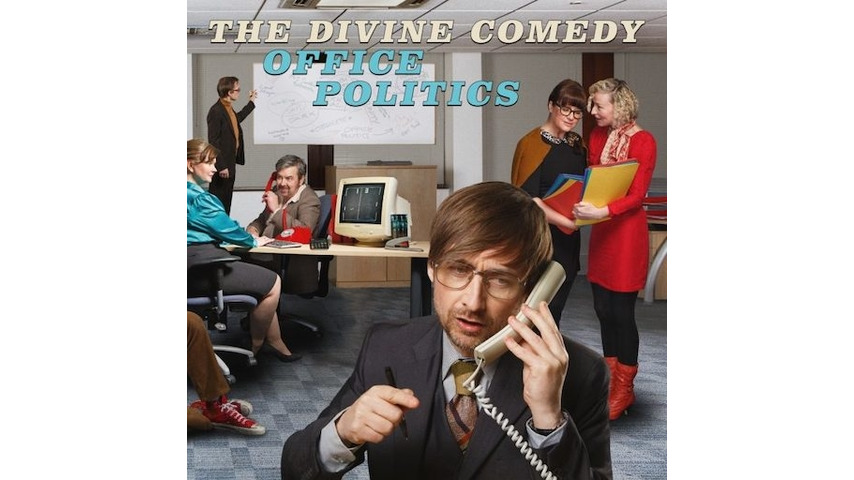 The Divine Comedy
are, today, the biggest example of "chamber pop". I could describe chamber pop as a kind of indie which uses a lot of horns, vocal harmonies and a balanced dose of comedy.
Their songs are usual funny, a bit silly in some kind of synth-indie-pop.
Neil Hannon, the main force of this musical project sounds like a snob Irish Man. If someone asked me how I would describe him, I would say that he looks like a comic mix of Jarvis Cocker with Leonard Cohen.
First of all, Office Politics is a very well centered album.
These days, there a lot of albums with vague titles which contains songs about a big variety of subjects that really don't connect with each other.
Here, the lyrics are about the normal working days, that we, the common people, have to suffer every day. Is not that normal for a rock star to sing about the monotony, the gossips or the Christmas dinner of a company, and that's actually refreshing. Also, the music is, sometimes a bit hard and industrial (although it never loses its funny satirical tone) which fits with the tittle.
"Queuejumper", "Office Politics" and "Infernal Machines" are, I would say, the key songs that represent most the subject of the album, both in lyrics as in melodies.
"Absolutely Obsolete" and "The Life And Soul Of The Party" have a great disco rhythm, the kind of songs that you can really imagine dancing with your work colleges.
Office Politics have also some sweet sad ballads with "Norman And Norma" and "A Feather in Your Cap" (this one really reminds Take My Breath Away by Berlin), and some others on the end of the album.
I'm sorry to say that some songs are a bit forgettable, specially "Psychological Evaluation", "The Synthesiser Service Centre Super Summer Sale" and "Phillip And Steve's Furniture Removal Company". Lyrically, they fit with the subject of the album, but musically, they don't add nothing, actually, they even make the album too long.
Best (and really good) moments on the album are, for me, "Dark Days Are Here Again", a sophisticated and elaborated charming song and, the best one "You'll Never Work In This Town Again". This song make you dance, makes you sing along, as the perfect dose of charm and suspense. A legendary track, that should be the main theme of a Sherlock Holmes' movie. Super song.
As an all, I enjoyed a lot the album. A charming, modern, focused and very well written and recorded album. Neil Hannon is one of the most charismatic singers of the UK and should have more credit for his work. The only "complain", if I may so, it's that I think that Office Politics is a bit too long, specially with the experimental tracks and I would cut off one of the ballads. It would make an easier to listen album.
7/10